Banal. Lifeless and Colorless. These are the words that describe my life. I've made the right choices, done all the right things. I'm strong, intelligent and highly successful. I've lived scrupulously, loved greatly, and shared my blessings equitably. But life hasn't been fair with me. Now I'm drowning in the middle of the ocean, desperately searching for the shore, surrendering to the fact that I will never be happy. Then he came along. Life is unpredictable. You can play it safe and resist change for fear of the unknown. Or you can close your eyes and take the leap with the knowledge that your life will change forever. Which one will I choose? My name is Jade Richmond and this is my story.
Suz's Review-
This book, this book, it was so so so beautiful.
Again Christine managed to grip me with a prologue that made me dive right in.
When the book begins, Jade is living in a world that has no color for her, only black and white. Something has happened to cause all the color to drain from her life.
'Life happens at every moment'
I was confused, but a good confused. It caused me to keep turning the pages. I was hungry for more of the story. I needed to keep reading, to know what happened.
Jade is a highly successful business woman in a man's world. She meets Lucas during a business encounter and is immediately drawn to him.... but because of the nature of their business relationship, they cannot act on the feelings they have. They connect and become close friends.... there is a tension that neither can ignore, but they have to.
'Life is funny that way-the more you seek, the less you find.'
'We all go through different stages in life, and all handle them in many ways. Some people can handle the bullshit and some emerge from it wounded and scarred. As people change, their feelings change too. Sometimes, love doesn't survive that war. Sometimes it dies.'
Jade has secrets from her past, and in the second part of the book, we are taken into the heartache that she has dealt with over the past twenty years.
We are shown why her life has become colorless, and it hurt to read of her pain and sadness. The journey that she has taken is a daily struggle for her.
'The past. Sometimes, we get so hung up about it that it prevents us from looking ahead. Trust me, I know what I'm talking about. The past can never be duplicated; nothing ever stays the same. But the mind, it tricks us into thinking that we can bring it all back if we try hard enough to do so. Let the past go. Hurl yourself into the future knowing that time waits for no one.'
In the third part of the book, we are brought back to the present, and continue with Jade in her struggle to get through her past. To be able to move on and live for the future.
I won't spoil it, you need to read of the journey that she must take.
I truly loved reading this story and the beauty and tragedy of it. I laughed and I cried.
Christine has an amazing ability.
Five beautiful stars


Prologue My mom is always there for me, Her support makes me be the best I can be She's the one who knows me best. She comforts me when I'm depressed She listens to what I have to say She makes my problems fade away And though we have our share of fights In the end she makes everything all right There are also times we don't always agree But that's okay because I know she will always love me Her faith is so strong, her love for me so great I'd go crazy without her, my mother is my soul mate! Mother's Day 2004 Today marks the third anniversary of the day I died. The setting sun skates across the water surrounded by the orange sky streaked with alternating layers of blue and white and yellow. The water is still and calm with only tiny rolls of waves washing upon the shore. If I looked far enough, I can see her standing at the end of the universe. I can feel her presence close by. I can hear her sweet singing voice next to me. How many times have I imagined what it would be like if I saw her again? Soon, now. Soon. I walk sideways along the shore where the water meets the sand, farther and farther from any sign of life. Away from judgment, from condemnation. From things that remind me of the mess I've made. My hands are full, my steps are heavy. But my heart…it's open. It's free. I've done what I could to apologize for all the hurt I've caused them. I've said the words to tell him just how much I love him. Without me, I know they will all be forced to move on. I stop in the middle of nowhere, ready to finish what I came here to do. In my left hand is one single flower. A calla lily. Simple and understated, but meaningful. In my right hand is a little box with breathing holes and a chirping sound emanating from it. Let me sit down for a while, I say to myself. Collect my thoughts. Remember why I'm here. I sit for what feels like hours, but in the scheme of things, I know that it's only for a minute. Slowly, I open the box with the bird in it. A swallow so tiny but whose wings are strong and powerful, cowering along the edge of the box, shaking and afraid. I take a deep breath and touch its head with my little finger. Is that what a feather feels like? I'm shaking. I'm sick. I don't think I can do it. How can something so small scare me so much? How can something as small, as insignificant as a bird, cause me to change my path every time I come across it? Another deep breath as I lift it gently, my fingers lightly enclosing it before I place it on the palm of my hand. Its scraggy little feet feel like pin pricks on my skin. There. That wasn't so bad now, was it? I laugh out loud as I raise my arm up in the air, tossing the bird up high, watching it fly far away from me. Ha! Take that! The tide creeps up. The tiny box washes away as I stand up to complete my journey. The water is dark. My feet feel cold. With the flower clasped in my hand, I move forward. Slowly, surely. I step upon the sand until I can no longer see my feet. I flinch and jump up in surprise. Something rubs against my legs. Seaweed wraps around my toes. I close my eyes and keep moving. My last fear. Fear of the bottomless unknown that is part of every life. This will be over soon. Beyond my comfort zone and into the ocean I go. Deeper and deeper until the tide pushes me forward and my feet can no longer anchor themselves on the sand. I close my eyes and pray. I pray for forgiveness, but most of all I pray for those who will be left behind. As the tide carries me further away, I delight in the numbness that the cold brings to my skin. The muffled sound of the water in my ear. The overwhelming, heartfelt feeling of closure. Floating, floating, floating away filled with so much peace.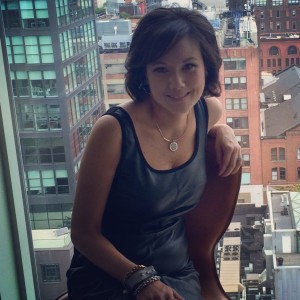 Christine Brae is a full time career woman who thought she could write a book about her life and then run away as far as possible from it. She never imagined that her words would touch the hearts of so many women with the same story to tell. Insipid, her third book, is due to be released in June of 2014. When not listening to the voices in her head or spending late nights at the office, Christine can be seen shopping for shoes and purses, running a half marathon or spending time with her husband and three children in Chicago.
---

a Rafflecopter giveaway